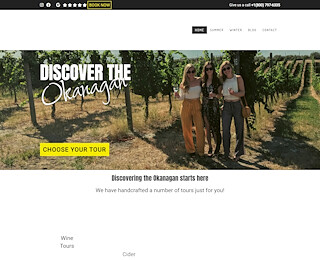 Winemaking is an art that you must experience firsthand, and this can be possible through Discover Okanagan Tours. We offer the best wine tours in Kelowna from March through October, but we do provide off-season wine tours from mid October to mid December, too. Allow us to drive you around wineries while you concentrate on the tasting. Book a wine tour in our website now.
Known for its beautiful vineyards, the Okanagan Valley produces top-quality wines that frequently win both national and international competitions. The region's combination of fresh air, lakes, mountains, and intense sunlight make it an ideal paradise for producing world-class wines. Now you can experience the area's splendor by signing up for the best wine tours in Kelowna.
There are more than 30 wineries in Kelowna alone, plus more than 200 wineries in the Okanagan Valley region. This sun-drenched part of the country is surrounded by farm-gate wineries as well, where vintages are still bottled by hand. Most wineries allow wine tours and tasting. A typical wine tour can last anywhere from 20 minutes to about one hour, depending on rules of the winery. Delicious food is often available, from gourmet cuisine made from the freshet local ingredients to tapas-style fare as well as fruit and cheese platters served either on patios or indoors, most of which offer spectacular valley and lake views.
Discover Okanagan offers daily wine tours and tastings from March to October. Off season wine tours also run from mid-October to mid-December (please inquire). We have chosen some of the best wineries to bring you to, and the selection encompasses large estate wineries as well as smaller family-owned vineyards. No wonder we have been described as the provider of the best wine tours in Kelowna and the Okanagan Valley. Call us now at 1-800-797-6335 to treat yourself. Taste the region's finest bottles and enjoy a first-hand experience of winemaking. You don't have to worry about driving home, so you can sample wines to your heart's content.
Best Wine Tours Kelowna